Whatsapp has a 70% opening rate, which means you are almost guaranteed exposure of your message if your customer is on WhatsApp with you.
If you want to effectively attract new customers, retain old ones and increase sales in your business you need to first learn EFFECTIVE WHATSAPP MARKETING and this is beyond using WAppSenderPro or such…
My WhatsApp number is a business account. As a P2P e-commerce platform operating for 8 years, I have been looking for a lot of suitable marketing tools.
For you to actually sell on WhatsApp you need to understand three major things.
1. You need to have a product or service that a starving crowd wants.
2. You need a hungry list of buyers that are going to buy that product.
3. And you need an effective communication system that you can leverage to sell the high-in-demand product or service.
I must admit that conducting business has become increasingly challenging. As an entrepreneur, I must explore diverse methods to attract potential customers, engage with them effectively, and showcase the range of products and services that my business offers. My approach involves consistently pursuing one customer after another, ensuring a steady stream of new leads. While this may seem old-fashioned, it is an effective and practical method of operation. Although we are integrating new marketing programs, we are also incorporating some traditional techniques to achieve our goals.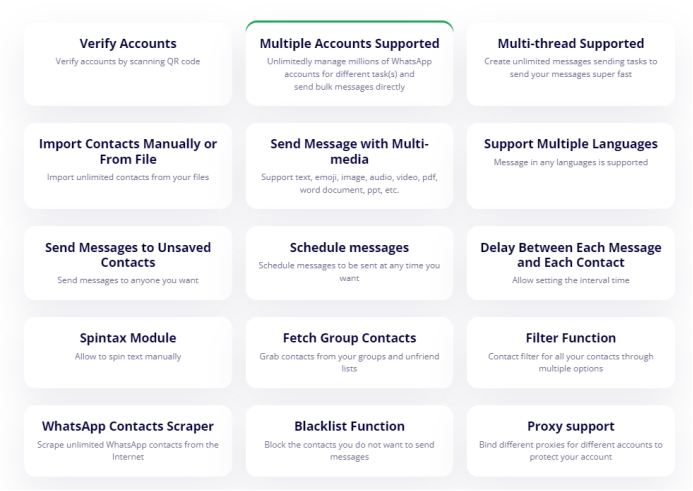 The last tool I looked for was WAppSenderPro, which has a very clean UI design and is easy to use. I always give it a work assignment at the end of my day and run it until I'm back in the office the next day and you find that you get a lot of responses from new clients. But be careful to edit your content so that people don't feel bad, or you'll get a flood of reports. Damn WhatsApp is pretty strict most of the time, they blocked my number once, there's nothing you can do but change your number.
So hopefully, the WAppSenderPro team will come up with a solution to this problem, and then there will be no worries for me!! Is that even possible? I hope so! But I still thank the team for constantly updating and optimizing WAppSenderPro.
Some features of this service are :
1. Send Text up to 2000 characters with links.
2. Send Images, Videos, and PDFs to numbers.
3. You can send Clickable links.
4. Send to more than 1 lac numbers in a single campaign.
Send any type of Promotional Content without getting blocked by the WhatsApp.

WhatsApp marketing is a skill on its own which if not done properly will not yield the desired result…as a business owner you need to be open-minded to learning
everyday and this includes learning WhatsApp marketing strategies professionally to effectively take advantage of the innocent app to increase sales.